Spine Surgery Overview: If you've had back discomfort for a long period, you might be thinking if spine surgery is your only choice for relief. Surgery is sometimes the only option. There is, however, some good news. Non-surgical treatments, often known as non-surgical or conservative therapy, can address the great majority of back disorders.
Back discomfort and accompanying symptoms such as leg pain, numbness, and even limb paralysis can be caused by aging, poor body mechanics, trauma, and structural problems. Chronic back pain is a problem that is usually diagnosed and treated by a team of medical specialists. Consider seeking the advice of many spine doctors before deciding on surgery. This time and effort invested in obtaining information will enable you to make an informed treatment option that will best complement your lifestyle and desired level of physical activity.
What About Conservative Non-Surigcal Treatment?
Before considering surgery for any non-emergency spinal surgery, a trial of non-operative treatment, such as physical therapy, pain medication, ideally an anti-inflammatory, or bracing, should be conducted. The duration of a conservative therapy trial varies, but it usually lasts six weeks to six months.
If non-surgical treatments such as medicines and physical therapy fail to improve symptoms, spine surgery may be indicated. Only in situations where the particular source of discomfort can be identified, such as a herniated disc, scoliosis, or spinal stenosis, is surgery explored.
Open Surgery vs. Minimally Invasive Spinal Surgery
Traditionally, spine surgery has been done as an open procedure. This requires making a large incision in the surgical site to let the surgeon to examine and access the spinal structure. However, because to advancements in technology, more spine disorders can now be treated using minimally invasive treatments.
Because minimally invasive spine surgery (MISS) does not require extensive incisions, it avoids open manipulation of the muscles and tissue around the spine, resulting in a shorter operational time. In general, decreasing soft tissue manipulation intraoperatively (during surgery) leads to reduced postoperative discomfort and a speedier recovery.
Imaging During Spine Surgery
Traditional visualization techniques do not allow surgeons to see the operation site , as well as computer-assisted image guiding, does. Furthermore, implants like as rods or screws can be placed and positioned with higher precision than is possible with traditional procedures.
Preoperative (before surgery) photos are blended with images collected during surgery to provide real-time views of the anatomical location and orientation of the operative site while the patient is having surgery using computer-assisted image guiding. Preoperative computed tomography (CT) and intraoperative fluoroscopy (real-time x-ray) are both often utilized because they allow surgeons to operate with greater precision and safety.
Not every patient is a good candidate for MISS surgery. There must be a reasonable expectation that MISS approaches will produce the same or better outcomes than an open procedure.
Surgical Approaches
The spine can be accessible via a variety of angles, whether by open surgery or MISS. These are known as surgical approaches, and they are described below:
• Anterior approach: The surgeon enters the spine through the belly from the front of your body, as the name indicates.
• An incision is created in your back for the posterior approach.
• Lateral approach: Your spine is approached through your side.
Common Spine Surgical Procedures
There are a number of conditions that may lead to spine surgery. Common procedures include:
Discectomy or Microdiscectomy: A herniated intervertebral disc is removed. As a result, the compressed nerve is relieved of pressure. A MISS procedure is a microdiscectomy.
Laminectomy: The laminae, a thin bone plate on the rear of the vertebra, is removed to open up the spinal canal and relieve pressure.
Laminotomy: A section of the vertebral arch (lamina) that surrounds the spinal cord is removed. In comparison to a laminectomy, a laminotomy removes less bone.
Decompression operations include both laminectomy and laminotomy. The term "decompression" typically refers to the removal of tissue that is compressing a spinal nerve.
Foraminotomy: Removal of bone or tissue from the neuroforamen, the canal via which nerve roots split from the spinal cord and leave the spinal column.
Disc replacement: The damaged disc is replaced with an artificial one as an alternative to fusion.
Spinal fusion: A surgical procedure that joins two vertebrae together. Bone grafts with or without instrumentation may be used in spinal fusion (eg, rods, screws). Bone grafts come in a variety of forms, including your own bone (autograft) and bone from a donor (allograft). Different methods can be used to achieve fusion:
ALIF, PLIF, TLIF, LIF: All pertain to lumbar interbody fusion used to stabilize the spinal vertebrae and eliminate movement between the bones.
Anterior Lumbar Interbody Fusion
Posterior Lumbar Interbody Fusion
Transforaminal Lumbar Interbody Fusion indicates a surgical approach through the foramen.
Lateral Interbody Fusion in which the minimally invasive approach is from the side of the body.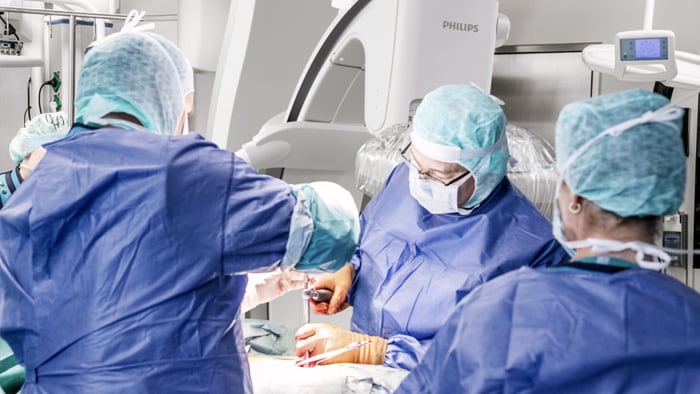 Spinal Instrumentation
Plates, bone screws, rods, and interbody devices are examples of spinal instrumentation; however, your surgeon may propose different types of devices in the treatment of your spinal problem. The objective of instrumentation is to keep the spine in place until the fusion is complete.
• Interspinous process devices (ISP) reduce the load on the facet joints, restore foraminal height, and provide stability in order to improve the clinical outcome of surgery.
• An interbody cage is a permanent prosthesis left in place to maintain foraminal height (eg, space between two vertebral bodies) and decompression following surgery. An ISP has the benefit of requiring less exposure to insert into the spine, making it a MISS treatment.
 • Pedicle screws keep the vertebral body in position until the fusion is complete.
Read More:
Some patients' fusions are at risk of not healing adequately or completely. This is known as a non-fusion, pseudarthrosis, or a failed fusion by your surgeon. Your surgeon may suggest bone growth stimulation to help prevent fusion difficulties. Stimulators come in two varieties: those that are implanted inside and those that are worn about the body, such as the neck or low back.
If surgery is your sole option, it's important to know that minimally invasive spine surgery has a lot of advantages. Once symptoms are relieved, patients who desire to return to work or active play, as well as the elderly or those with serious spinal difficulties, typically reach a greater degree of function.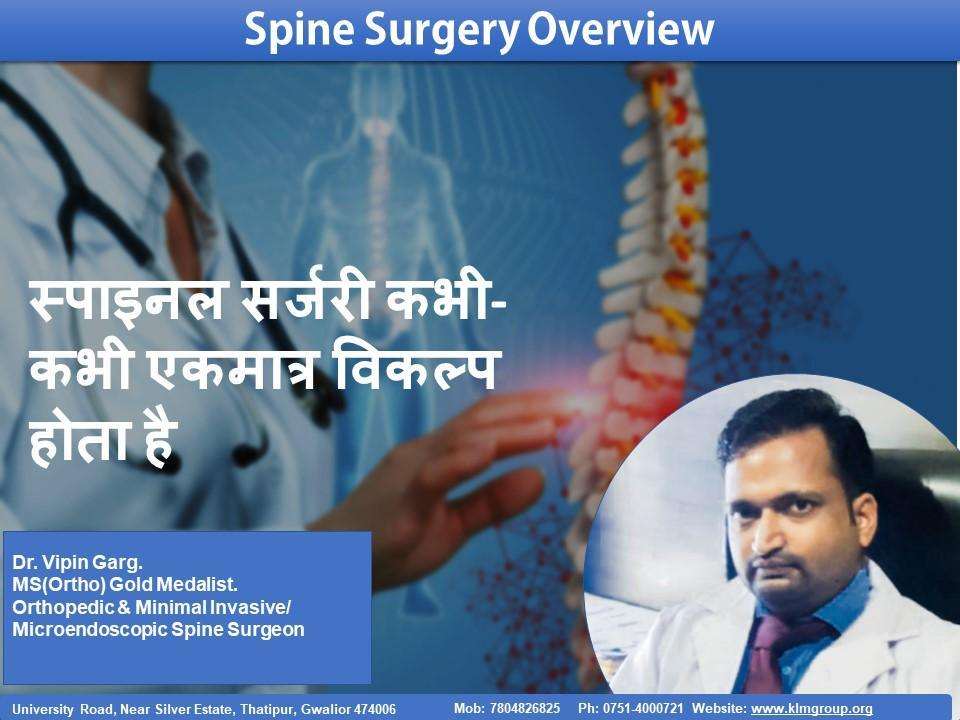 Dr Vipin the managing director of KLM Group. He is a well-known gold-medalist Orthopedic Surgeon In gwalior, strongly reputed for his trusted and focused attitude our rich knowledge and experience, be assured of quality healthcare and world-class medical services in Orthopaedic, Spine care In gwalior, Ophthalmology, X-ray & Diagnostics services along with physiotherapy services.
Book Your Consultation
Website: https://tinyurl.com/yyzvwmck
Email: info@klmgrou p.org
Ph: 0751-4000721,Mob: 7804826825
Address: 12, Saraswati Nagar, University Road, Near Silver Estate, Thatipur,
Address Link: https://g.page/r/CQ0WqKLEXPWeEAE