Types of spine surgery: Before undergoing spine surgery, you should ask yourself a lot of questions. Is surgery required to correct the problem, or would a non-surgical approach be preferable? Is it preferable to undergo standard spine surgery or minimally invasive spine surgery if surgery is required? How is minimally invasive spine surgery different from standard spine surgery? Dr. Vipin Garg, a Gwalior-based orthopedic spine surgeon, addresses issues to consider before undergoing spine surgery and how KLM Group is well-positioned to meet a variety of spine-related demands. Let's know more about types of spine surgery.
How do you know when you need spine surgery?
When someone comes to us with issues in their extremities, we nearly always recommend that they see their primary care physician first. Whether a person has low back or neck discomfort, we will normally monitor them over time and urge them to keep up with good, consistent physical exercise to see if the problem goes away. If the problem does not improve with physical exercise, over-the-counter remedies, or pain management and anti-inflammatory medications, you should contact a doctor for an examination.
Many people with spinal issues can be addressed without surgery. Prior to contemplating surgery, physical therapy, home exercises, medication, and, in certain cases, spinal injections are commonly prescribed. If the condition still persists, surgery may be a viable choice. Let's know more about types of spine surgery.
For example, if a patient's neurogenic pain in the extremities is severe and non-surgical treatment has failed, surgical intervention is the best option. If non-surgical treatment fails to relieve symptoms due to spinal cord or nerve root compression, such as substantial weakness in an arm, leg, or limb, doctors may propose surgery.
What are the main distinctions between traditional and minimally invasive spine surgery?
The anatomy is completely exposed in traditional open spine surgery. We expose less of the anatomy during minimally invasive spine surgery, which means a faster recovery in the first few weeks after surgery. Additional surgical tools, such as intraoperative spinal navigation, are frequently used in minimally invasive spine surgery. This allows the surgeon to see more into surgical regions with less exposure.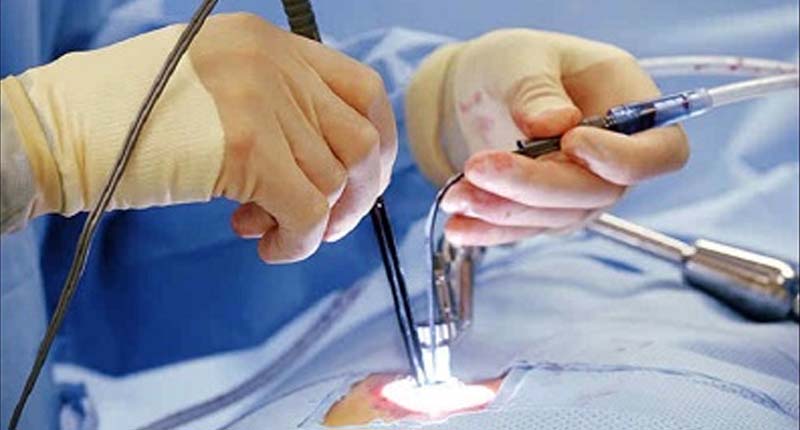 The long-term aims are the same, whether minimally invasive or conventional; we want to achieve overall improvement in symptoms or a halt in deterioration. In the end, we want our operations to result in less blood loss, shorter hospital stays, fewer infection rates, and a quicker recovery in the weeks after surgery. Patients benefit from minimally invasive surgery because it allows them to recuperate faster. However, minimally invasive surgery is not suited for every patient or medical condition. It's critical that you work closely with your spine surgeon to determine the best course of action for your problem. Let's know more about types of spine surgery.
Surgery is a minimally invasive procedure. As a result, we strive to maximize the patient's benefit while reducing the surgical stress as much as feasible. Our patients benefit from our surgeons' academic research to advance both minimally invasive and sophisticated spine surgery treatments, and we use cutting-edge surgical techniques and technology as necessary. Let's know more about types of spine surgery.
What types of ailments do you treat at the KLM Group Spine Center?
We treat a wide range of spinal problems at the Penn Medicine Spine Center, from sciatica and cervical radiculopathy to complicated brain and spine tumors. Scoliosis (spine curvature), degenerative disc disease (arthritis of the spine), and individuals with spinal stability difficulties that include back or neck discomfort with or without arm or leg pain are all common reasons for patients to visit us. Let's know more about types of spine surgery.
What should you look for in a good spine surgeon?
A skilled spine surgeon is committed to providing exceptional patient care and outcomes, and is prepared to learn new ideas and procedures while honing existing ones. A spine surgeon should also be a strong communicator who is prepared to spend time discussing why they are performing surgery and the treatment choices available.
KLM Group is unique in that, because of its collaborative character, if someone comes in to visit one of our doctors and that physician isn't the right fit for them, we may search our extensive network to locate the proper surgeon for them. We have such a diverse spectrum of experience here that we can always select the correct surgeon for each patient.
What types of spine surgery are offered at KLM Group?
Traditional and less invasive surgical treatment options for the spine are available at KLM Group Spine Service.
Laminectomy, microdiscectomy, and classic lumbar fusion are some of the typical spine surgery methods we provide. The technique of laminectomy is done to treat spinal stenosis or pressure on the nerves of the low back. An incision is made on the back of the spine, allowing the surgeon to remove bone spurs and thicker ligaments that are pushing on the low back nerves.
A herniated disc impinging on a nerve in the spine causes nerve discomfort, which is treated through microdiscectomy. A tiny incision in the low back is required for this procedure. The surgeon can then determine which herniated disc is pushing on the nerve and remove it.
Traditional spinal fusions are performed to address spine instability, scoliosis, severe disc degeneration, or a combination of these conditions. A fusion is when one or more vertebrae are fused together using bone from the patient's body. Spinal instrumentation (pedicle screws) is inserted into the vertebrae to help with the fusion process and to stabilize the mobility segment.
Read More
Lateral Lumbar Interbody Fusion (LLIF) and Minimally Invasive Transforaminal Lumbar Interbody Fusion (MIS TLIF) are two of the most popular minimally invasive spine procedures we undertake, as well as percutaneous instrumentation.
A lateral approach fusion (LLIF) is a fusion in which the surgeon creates a tiny incision on the patient's side, beneath their ribs, to access the spine from the side. This permits the surgeon to accomplish a spinal fusion without causing any damage to the spine's muscles.
The LLIF operation may be followed by percutaneous spine instrumentation, which is a very frequent technique. Instead of removing the muscles from the spine as is done with typical spinal fusion surgery, the surgeon puts rods and screws between the muscle fibers, frequently utilizing computer navigation or intraoperative X-ray. If it is an appropriate choice, we try to use a less intrusive strategy whenever feasible.
Why should you choose the KLM Group Medicine Spine Center?
We seek to assist patients by providing professional surgical opinions and, when surgery is not required, by linking them with the proper spine care physician for their specific situation.
Our doctors are typically the first to execute new spine treatments and educate other doctors how to perform them; we are often the first to publish articles and teach courses that other doctors around the country learn from. Patients who come to Penn benefit from a multidisciplinary approach and have access to the complete range of services provided by our doctors and surgeons, who are global experts in quality improvement and risk reduction (reducing risks for patients).
Our spine experts can manage every type of spinal problem, from the most basic to the most complicated, all while staying within the same health system.
Dr Vipin the managing director of KLM Group. He is a well-known  gold-medalist Orthopedic Surgeon In gwalior, strongly reputed for his trusted and focused attitude our rich knowledge and experience, be assured of quality healthcare and world-class medical services in Orthopaedic, Spine care In gwalior, Ophthalmology, X-ray & Diagnostics services along with physiotherapy services.  
Book Your Consultation
Website: https://tinyurl.com/yyzvwmck
Email: info@klmgrou p.org
Ph: 0751-4000721,Mob: 7804826825
 Address: 12, Saraswati Nagar, University Road, Near Silver Estate, Thatipur,