The spine can be injured due to normal wear and tear, trauma, poor body mechanics, or age. Back pain arises when any section of the spine is damaged or when the nerves in the spine are under too much strain.  Let's know more about Spine Surgery Benefits and Risks.
Only a tiny minority of cases, however, need spinal or back surgery. Medication, cold, heat, massage, and physical therapy are all effective non-surgical treatments for back pain. When all other treatment options have failed to provide relief, back surgery may be considered. However, it is critical to determine whether or not a patient's condition can be treated by surgery.
When is it necessary to have spine surgery?
The following conditions may necessitate spinal surgery:
Back discomfort and numbness down the back of the leg due to compression of spinal nerves.
Disc ruptured in the spine (herniated disc).
Osteoporosis is caused by fractured vertebrae or damaged bones, as well as an unstable spine.
Non-surgical procedures that didn't work.
The advantages of spine surgery
Back discomfort is the most common reason for spine surgery. Pain relief comes with a slew of other advantages:
Increased activity and improved physical fitness
Less dependency on pain medication and fewer drug side effects
Increased productivity at work
Improved mood
Read More
Risks involved in spine surgery
Like all surgeries, surgery of the spine also carries certain risk factors. These include:
Blood clots; bleeding
Infection
Stroke; heart attack
Herniation of the discs on a regular basis
Damage to the nerves
There are several forms of spine surgery.
The following spine surgeries are used to alleviate pressure on the spinal cord or nerves:
Laminectomy – To expand the spinal canal, the bone that covers it is removed. Nerve pressure produced by spinal stenosis is relieved with this operation.
Discectomy – The herniated section of a disc is removed in this operation to reduce nerve discomfort and inflammation. It involves the partial or total removal of a back piece of a vertebra to provide access to the ruptured disc, and it was done as an open procedure.
Spinal fusion – The fusing of two or more bones in the spine is permanent with this treatment. It aids a patient's pain relief by providing stability to a spinal fracture. It may also be used to alleviate uncomfortable motion between vertebrae caused by a damaged or degenerative disc.  Let's know more about Spine Surgery Benefits and Risks.
Artificial disc implantation – Artificial discs are a non-surgical option for relieving uncomfortable movement between two vertebrae caused by a deteriorated or damaged disc.
Vertebroplasty – Injections of bone cement into compressed vertebrae can help stabilise fractures and decrease pain in cases of compressed or fractured vertebrae. A balloon-like device is implanted to expand compressed vertebrae before injection of bone cement in kyphoplasty, a similar but more costly treatment.
Weighing options
When deciding whether or not to proceed with spine surgery, a second opinion from a skilled spine expert might be helpful. Different surgeons have differing views on when surgery should be performed, what sort of surgery should be performed, and whether surgery is necessary.  Let's know more about Spine Surgery Benefits and Risks.
In addition, certain patients with back pain or leg discomfort who have already had a spine surgery may need further procedures. This is especially true for persons who suffer from chronic pain. As a result, it's critical to weigh the benefits and drawbacks of undergoing spinal surgery with the help of a team of healthcare specialists. You may also learn about Cheltenham spine surgery and how it works.  Let's know more about Spine Surgery Benefits and Risks.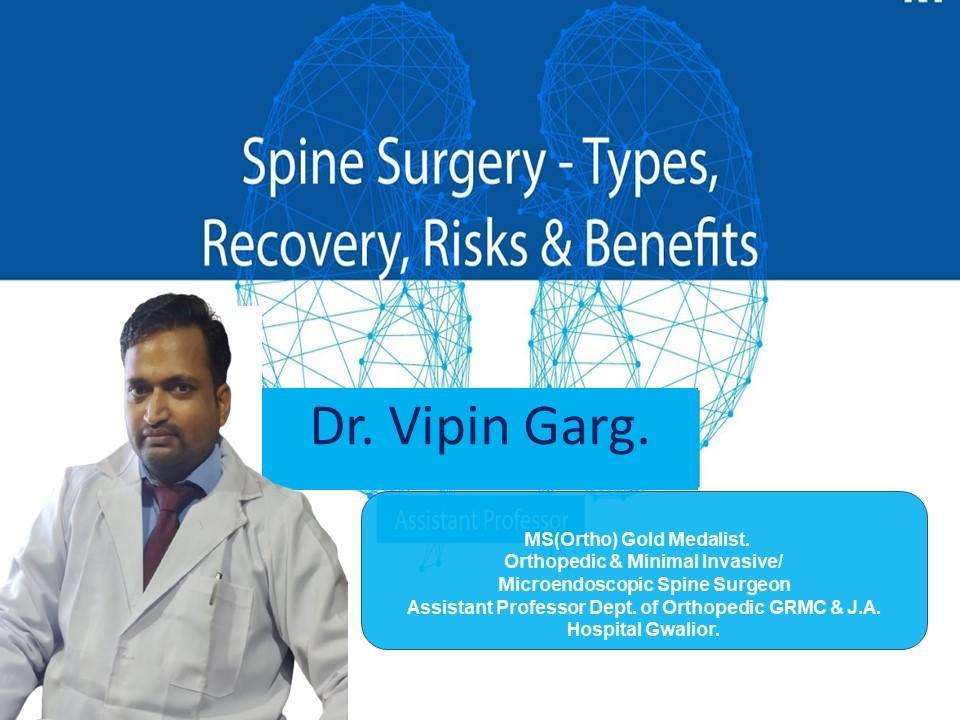 Dr Vipin the managing director of KLM Group. He is a well-known gold-medalist Orthopedic Surgeon In gwalior, strongly reputed for his trusted and focused attitude our rich knowledge and experience, be assured of quality healthcare and world-class medical services in Orthopaedic, Spine care In gwalior, Ophthalmology, X-ray & Diagnostics services along with physiotherapy services.
Book Your Consultation
Website: www. klmgroup.org
Link: https://tinyurl.com/yyzvwmck
Email: info@klmgrou p.org
Ph: 0751-4000721,Mob: 7804826825
Address: 12, Saraswati Nagar, University Road, Near Silver Estate, Thatipur,