How an Orthopedic Specialist Treats Knee Pain: Knee discomfort is exacerbating at best and incapacitating at worst. An correct diagnosis is essential for effective knee pain therapy. Dr. Vipin Garg, a Board Certified and Fellowship Trained Orthopaedic and Sports Medicine Specialist at The KLM Group Gwalior, is one of the most qualified medical professionals to evaluate knee pain, determine the reason, and provide an appropriate treatment strategy. We can discuss more about How an Orthopedic Specialist Treats Knee Pain.
Knee pain therapy choices are more plentiful and effective today than ever before.
A Customized Knee Pain Treatment Plan
To make an accurate diagnosis, a step-by-step technique is employed. A medical and injury history is acquired first. A physical examination is then carried out. Last but not least, medical imaging studies are ordered and examined.
A personalized treatment plan is provided that lowers symptoms, addresses the injury/condition, and accommodates the patient's lifestyle. Among the nonsurgical therapy possibilities are:
Changes in activity. Stopping or altering behaviors that are causing symptoms.
Medications that reduce inflammation. Medication that reduces inflammation and discomfort, both orally and topically.
· Brace. During physical exertion, a detachable brace supports the knee.
Rest and ice are recommended. Resting from exercise and physical activities while administering ice to the knee.
Physical rehabilitation. Stretching and strengthening activities for the knees. We can discuss more about How an Orthopedic Specialist Treats Knee Pain.
Minimally invasive treatment options include:
Injections of corticosteroids For quick symptom alleviation, an anti-inflammatory and anesthetic medicine is injected into the knee.
Injections of platelet-rich plasma The patient's blood is drawn, and the healing component, platelets, are extracted and injected into the knee. Symptom alleviation is both immediate and considerable.
Knee arthroscopic surgery To repair damage and restore normal knee structure, an arthroscopy camera is introduced into the knee, and microscopic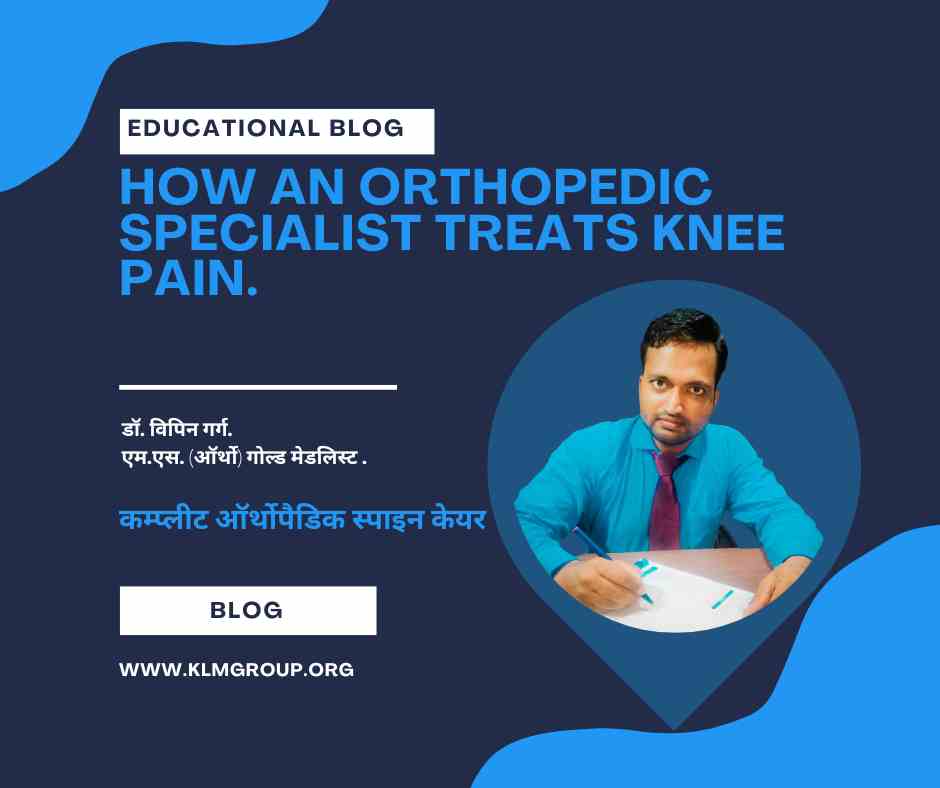 Making an Appointment with One of Our Knee Specialists:
When undergoing some treatments, outpatient surgery might be advantageous. Our board-certified physicians at KLM Group Gwalior Advanced Orthopedics provide non-surgical and minimally invasive surgery treatments for your Orthopedic, Spine, and Pain Management issues.
Address: 12, Saraswati Nagar, University Road, Near Silver Estate, Thatipur, Gwalior 474006 Mob: 7804826825 Ph: 0751-4000721 Website: www.klmgroup.org Email: info@klmgroup.org / klmspineclinic.in@gmail.com